Niklas & Yvonne Manz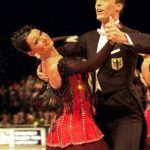 Dance Department Teaching Faculty
Ballroom
x217
Yvonne and Niklas Manz began dancing International style ballroom (Standard and Latin American) as teenagers in Germany and have been dancing together in Standard competitions since 1993. They specialized in formation team dancing (eight couples dancing a six-minute choreographed routine that includes all five standard dances with synchronized movements). With their team, the Braunschweiger DanceSport Club (BTSC), they won the German National Championship four times.
As members of the German national team, they won the European Championship in 1995 and 1997. The highlight of their formation-dancing career was in 2000, where the team won the title of World Champion in standard formation dancing. In 2008, Yvonne and Niklas were awarded the medal of honor for outstanding athletic achievements and exemplary human and moral attitude as members of the German national ballroom formation team.
After Yvonne finished her master's degree in Management and Economics and Niklas his Ph.D. in Physics they married and moved to the US, where they have competed as a single couple. They became certified instructors for social dance in 2001, as well as trainers in competitive ballroom dancing in 2002.
They both enjoy sharing their experience as a dancers with students. Through laughter, a little sweat, and of course, dancing, they want to give everyone the chance to have a new creative outlet or social activity, have a access to a different art form, or even to become a competitive ballroom dancer.