Meredith Bruch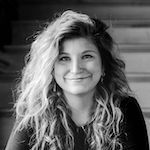 Meredith Bruch is a native of Ohio and began her training in ballet at the age of 3, later studying modern dance. She holds an MA in contemporary dance from Case Western Reserve University and a BA in theatre and dance with a concentration in dance and a minor in geology from the College of Wooster. During undergrad, she completed and published her independent study thesis work titled, Flowin' with the Water Cycle: An Exploration of the Water Cycle Through Movement Through the Lens of Choreographer Doris Humphrey and Musical Composers Felix Mendelssohn, Claude Debussy, and Hans Zimmer. Her IS was then presented on National Water Dance Day hosted by Dale Andree. She created several dance works during her time at Wooster and had the opportunity to perform in works by Maria Witt, Bridget Bratley, Vinny Meredith, and Tali Westreich. In 2017, she was awarded an APEX Fellowship from the College of Wooster, allowing her to attend American Dance Festival that summer where she trained and studied under world-renowned artists, broadening her dance training in Durham, NC. During her time at ADF, she performed in Heidi Latsky's On Display at Duke Homestead.  
At CWRU, Bruch completed her graduate thesis work consisting of research and implementation of a Dancer Wellness Program for an established dance department at a college or university through the guidance of Karen Potter, chair of the Department of Dance at CWRU. She was the program and publicity coordinator for dance concerts Mosaics, Meridian, Avanti, and the Mather Dance Collective. Bruch had the wonderful opportunity to perform in Katie Nabors' MaDaCol work, Warp & Weft.
Concluding the summer of 2019, she completed her sixth season with the Ohio Light Opera as a spotlight operator, house manager, and assistant choreographer. Bruch also had the opportunity to attend ADF in CLE, Dance/USA Conference, and the Dancing Wheels Summer Intensive all held in Cleveland, Ohio. In 2019, Bruch was invited to Ballet Wooster where she guest taught modern dance and ballet; in 2020, she became an instructor there, teaching ballet, modern, and yoga.
In 2020 Bruch had the opportunity to dance and perform with Cleveland Dance Project in a dance work by Mackenzi Bolyard-Pizana in collaboration with Urban Dance Cleveland Dance Through The Pandemic. In 2020, she performed in the Cleveland Dance Project Season 6 Showcase in works by Molly Haslag and Jessica Bennett. During the global pandemic (2020), Bruch moved back to her hometown where she earned several certifications in yoga; 200hr RYT, Sacred Calm Restorative, USUI/Holy Fire III Reiki Ryoho- First and Second Degree from Flex Yoga Studios in Wooster, Ohio. Bruch participated in National Water Dance Day hosted by Dale Andrea, which took place virtually due to the pandemic.
Bruch is currently the Community School Coordinator/Director with Wayne Center for the Arts. She is excited to continue her growth in the arts and be a part of this great community.