Lauren Stenroos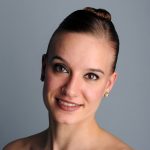 Dance Department Teaching Faculty
Ballet, Pilates, Contemporary
x217
Lauren Stenroos is currently a dancer with Cleveland Ballet under the artistic direction of Gladisa Guadalupe and Ballet Mistress Cynthia Graham. Previously, she has danced professionally with Lake Erie Ballet, Nashville Ballet, Dayton Ballet, and Ballet Montana. She has also appeared as a guest dancer at Williamsport Civic Ballet, James Sewell Ballet, Texture Contemporary Ballet, Lake Erie Ballet, and Mercyhurst University.
Lauren received her early training from the Cuyahoga Valley Youth Ballet (Now called Ballet Excel Ohio) under Nan and Mia Klinger. While at CVYB she had the unique opportunity to perform in original ballets choreographed by Michael Vernon, Francis Patrelle, Tom Gold, James Sewell, and Bill Hastings. She also attended summer intensives on scholarship at Chautauqua Institution, Richmond Ballet, Nashville Ballet, Central Pennsylvania Youth Ballet, and Cleveland San Jose Ballet. She graduated with a B.A. degree in Dance with a Minor in Music Composition from Mercyhurst University.
Lauren was recently featured as Swanilda in Ramon Oller's world premiere of Coppelia with Cleveland Ballet and as Sugar Plum Fairy in the Nutcracker.
She has also enjoyed performing in works by George Balanchine, Gerald Arpino, Septime Webre, Stuart Sebastian, James Sewell, Jon Rodriguez, Amy Seiwert, Gina Patterson, Gina Walther, Lesley Bories-Scalise, Paul Vasterling, Gladisa Guadalupe, and Ramon Thielen.
In addition to dancing, Lauren is a composer and has created original works for dance. In addition to teaching ballet at Wayne Center Ballet and other schools around Northeast Ohio, she also is certified in Pilates and teaches mat and reformer classes.