Lacey Huffman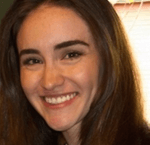 Lacey Huffman, a native of Circleville, Ohio, is a 2009 graduate of the Columbus
College of Art and Design (CCAD) where she received a Bachelor of Fine Arts degree
in landscape oil painting and drawing. Her love and appreciation of nature's vibrant beauty began as a child. She enjoys teaching art lessons to adolescents, teenagers and adults of all ages. In addition to this, she has hosted and taught youth summer camps, private art lessons and group paint parties. Lacey and her husband have recently moved to Wooster, OH with their two dogs and a cat.