Kaitlin Shreckhise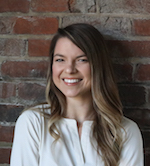 Dance Department Teaching Faculty
X217
Kaitlin Shreckhise began her dancing career on the Eastern Shore of Virginia at Eastern
Shore's Own Art Center (ESO), a studio and dance department very similar to that of Wayne
Center for the Arts. There, she studied and trained intensively in classical and contemporary
ballet for 15 years. Prior to college, she attended Richmond Ballet's summer intensive on
scholarship and participated in many master classes and auditions, including class with Finis
Jhung. She auditioned and was accepted into Studio Maestro's summer intensive (now known
as Manhattan Youth Ballet) and participated in class and auditions with The Joffrey Ballet and
School of American Ballet. During her time at Virginia Tech, she was a member of La Fusion
Dance team, and it was also during her senior year of college that she began what would
become a six year tenure as Ballet Director, faculty member and choreographer at Dance.tech
Performing Arts Studio in Blacksburg, Virginia.

Shreckhise just recently moved to Ohio in October of 2018 with her husband, Jake. She looks
forward to sharing her love for teaching and passion for dance with the students and families of
WCA.