Jake Nelson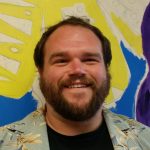 Visual Arts Program Coordinator
jake@wayneartscenter.org
x205
Jacob Nelson is Wayne Center for the Arts' new visual arts coordinator. A 2016 graduate of Kent State with BFA in Ceramics, Jake has been teaching a variety of classes at WCA for the past year. The Wayne Center for the Arts is showing a range of Nelson's clay sculptures, all constructed over the past three years. Nelson's work focuses on the figurative – human, animal and fantastical. and reflects his self-proclaimed "obsession with mouths and teeth. He likes to work quickly, almost impulsively, preferring, he says, to "let the clay do its own thinking."
Subculture Marathon
This collection of my work reflects the various styles and themes I tackled in my college years. There are pieces dating back to my first ceramics class some four years ago, when I was just beginning to discover my passion for clay and sculpting. Early on my fascination of mouths and teeth began to manifest, and I made several pieces investigating this. These mouth pieces range in size and level of abstraction, some are finished in salt and wood kilns, and others are sporting handsome felt coats.
After doing mouths for some time I began to feel restricted. Branching out, I took my first real steps into figural sculpting and soon discovered how difficult it is. Gravity became my enemy as I struggled through my investigations, managing to subvert it long enough to sculpt a seated Yeti, and eventually a freestanding four-foot Sasquatch. Sadly that Sasquatch fell casualty to gravity, literally. I caught the upper torso as it toppled and managed to save the bust now presented here.
My pride injured, I sought council from my mentor, the late great Kirk Mangus, and his wisdom helped set me on the right path. "Make more work" was Mangus' mantra and I adopted it myself, setting out to learn how to more efficiently sculpt the head. Using a method taught to me by a great Korean sculptor, Dong Shin Jun, I took my facial sculpting to a new high. He taught me standards and rules of facial sculpting evident in my current work. Currently I enjoy trying to sculpt these figures or busts in rapid succession, managing to sculpt two or more in a six hour period. I see progression in all my work and I continue to look forward as I run my marathon of sculpting my weird and somewhat creepy figures.