Evan Spore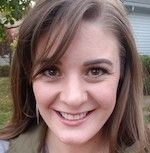 Evan Spore and her husband of 6 years have been residents of Wooster for 8 years. She is the mother of two young daughters and one elegant feline.
Evan's love for dance blossomed at the age of three when she began attending the Richland Academy of the Arts. As that love flourished she branched out and trained in various techniques including Pointe, Character, Jazz, Modern, and Hip-Hop. She had the pleasure of learning from many professional dancers ranging from a member of the Rockettes to the Kirov Ballet of Moscow (Mariinsky Ballet). She is particularly honored to have been able to train under the late George Boft for several years. Additionally, Evan attended many dance workshops all over Ohio including BalletMet and Cincinnati Ballet. She even gave private at home lessons to a small number of students. One of those students, Miss Bridget Kuhns, is now a soloist for Huston Ballet. Considering all of those experiences, one of Evan's fondest dance memories is teaching Autistic and Down syndrome children the beauty, joy, and movement of dance when she was 16.
Though her dance career was interrupted by an injury at age 17, she has never lost her passion for dance. She is extremely excited to restart her dance journey with the WCA family and to teach the young dancers about what she knows and loves.