Darcy Haynes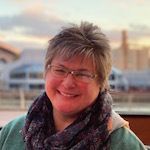 Darcy Haynes is an art educator and artist originally from western Kansas. In 2003, she
received her Bachelors of Art and completed the program of Decorative and Ornamental
Painting and Design from Wichita State University. Her photography and collage art has been
seen in multiple galleries. Darcy's passion for the arts and interest in teaching led her to
complete the Teacher Education Program from Newman University in 2013. She moved to
Wooster in 2019, and came to teach at Wayne Center for the Arts as a Visual Art and Outreach
Instructor and is now the Visual Arts/Outreach Coordinator.