Carli Moorefield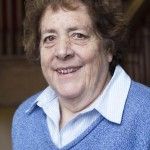 Carli Moorefield, pottery instructor, has been with the Wayne Center for the Arts since 1974. She is known and loved by many, and has taught many current and former teachers of ceramics. Her specialties are adults and ages 6-9; she is currently the instructor of Potter's Medley, Mudlarks, and several of our pottery workshops.
Carli studied at the Chrysler Museum in Norfolk, VA, under the instruction of the Richard Lafean. She and her daughter, Emily, ran Moorefield Pottery in downtown Wooster for 12 years. Carli exhibits her work frequently in local venues, most recently the Yankee Peddler Festival in Canal Fulton, OH. 
Adam, our pottery coordinator, was a student of Beth Negro - who herself was a student of Carli Moorefield.