Candy Coated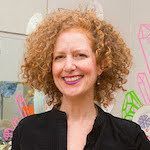 Candy Coated, formerly known as Candy Depew, is a multi-media Sculptor specializing in ceramic and screen-printing.  As a devout promoter of decorative culture, its continued daily practice, and one that truly believes in the (healing) power of creative art endeavors, Candy is known for her vibrant and colorful work in ceramic sculpture and dinnerware, screen printed textiles, and vinyl sticker murals.  All resplendent of symbolic forms found in art, history, and nature that Candy has fancifully abstracted, repeated in patterns and color combinations all merged together into her vibrant sculptural installations and community based public art works.
Candy was based in Philadelphia for more than a decade making art, teaching screen printing in the city and her educational initiative "Studio School of Decorative Art" while taking part in artist residencies in sculpture, installation, and ceramics. She has lectured on and shown her work at universities, galleries, and museums in the US and internationally.  
Born in Cleveland, Ohio, Candy earned her BFA from Kent State University, with major studies in ceramics, jewelry/metals, drawing, and Cultural Anthropology. After studying at Newcomb School of Art at Tulane University, New Orleans, she completed her MFA at Tyler School of Art at Temple University, Philadelphia, in 1997. In 2002, she continued furthering her interests with The London Consortium at the Tate Modern, London, focusing on the concept of "candycoating."
Candy worked with the Fabric Workshop and Museum, Philadelphia, from 1998 to 2002. In 2002, she received a Pew Fellowship in the Arts, which enabled her to complete residency at The Clay Studio, Philadelphia. In 2004, she was in the Kohler Arts/Industry Program in Wisconsin. In both 2005 & 2009, she was honored with residencies at the European Ceramic Work Centre Netherlands and in 2007 at the International Studio and Curatorial Program- NYC. 
In 2015 Candy moved to California and created a "living residency" project based in Napa called Wherever You Go, You ART that has since travelled with her to Philadelphia, China, back to California, Knoxville, and currently in Ohio. Due to the global pandemic having returned to her native land indefinately, Candy is working on an immersive exhibition, "Interwebbs" (opening in Akron July 17, 2021) featuring screen printed textiles sewn into a twenty by twenty-one foot quilt.