Adam McVicker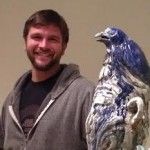 Ceramics Program Coordinator
adamm@wayneartscenter.org
x208
Adam McVicker grew up in rural Wooster. His upbringing in the country instilled an admiration for craftsmanship, creativity and a love for the beauty of nature.
In 2002, McVicker apprenticed under the artist Sarah McFarlan for mentorship in drawing. McFarlan helped guide his art towards nature and his personal relationship with it. From 2004-2005, McVicker apprenticed under local Wooster Artist, Beth Negro, as her studio assistant at the Wayne Center for the Arts in Wooster, where she instructed.
McVicker pursued his love for Fine Arts at Kent State University, where he received classical training in Fine Arts and Crafts, as both a full and part time student at the various campuses while he continued to work full time as a production welder and steel fabricator. In 2012, he returned to school fulltime to finish his degree, focusing in ceramics and studied under the two artists who have, subsequently, been the most influential on his work, Eva Kwong and the late Kirk Mangus.
Upon confirmation of his degree in December 2014, Adam McVicker is looking forward to starting his professional career as a member of the Visual Arts Teaching Faculty at the same facility where he first learned to use a potter's wheel, Wayne Center for the Arts in his native Wooster, Ohio.