2020 Wooster Arts & Music Fest
Saturday, September 19th, 2020: 1:00-8:00 pm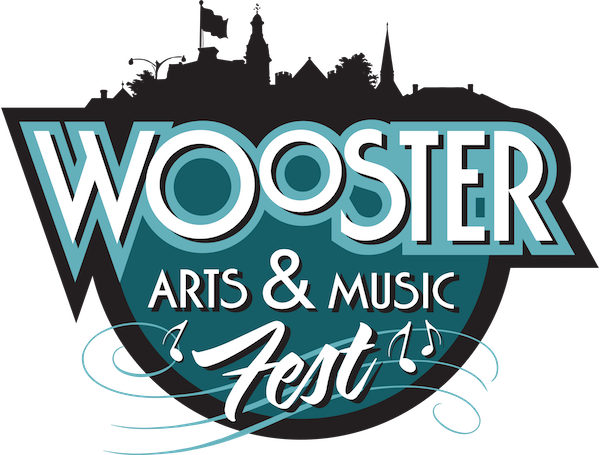 ---
About the Festival
The Wooster Arts & Music Fest 2020 will feature live bands, an arts and fine craft show, children's activities, and the best of Wooster's local food and drink scene. The purpose of this festival is to celebrate the arts, provide sales opportunities for artists, and promote economic development in downtown Wooster.
Presented through a partnership between Main Street Wooster, Inc., Wayne Center for the Arts, Rotary Club of Wooster, and the Wooster City Schools with Boys & Girls Club of Wooster, the Wooster Arts & Music Fest is organized by volunteers and funded through donations.
This event is free and open to the public. Art, fine craft, food, beer, and wine will be for sale throughout the day of the event!
---
Location
Wooster, OH is located 55 miles southwest of Cleveland, OH; 90 miles northeast of Columbus, OH; and 35 west of Akron, OH. The WAMF takes place on the square in Historic downtown Wooster, Ohio, at the intersection of Liberty and Market Street.
Download Downtown Wooster Parking Map
---
Artist Prospectus
Categories are provided as a guide. While a balanced show that equitably showcases both works of art and craft, as well as diversity among media is a principal objective, the Wooster Music/Arts Fest establishes no quota or entitlement by media category. Artists may enter in any of the following media categories:
Glass
Wood
Metal
Leather
Photography
Jewelry
Drawing
Furniture
Digital Art
Printmaking
Decorative or Wearable Fiber
Painting (includes Oil, Acrylic, Watercolor/Gouache)
Basketry
Ceramics/Pottery (includes functional and sculptural)
Paper/Sculpture/Other
Mixed Media (2D and 3D)
JURY PROCESS
A panel selected by Wooster Arts & Music Fest will conduct a blind jury process. There is no jury fee. After reviewing submitted images and allowing for a balanced exhibit across mediums, the panel will invite applicants with the highest scores to participate. Notification of acceptance will be emailed no later than August 19, 2020. Booth fees of those applicants not accepted into the festival will be refunded.
PROMOTION
A comprehensive marketing campaign to promote Wooster Arts & Music Fest and participating artists is conducted, including social media, website, press, email, print guides, and other sources.
RULES AND GUIDELINES
Check-in begins at 10:00 am. Booth numbers and other materials will be distributed at check-in. Vending areas will be open for set-up from 10:00-12:30 pm. Setup must be completed by 12:30 pm. Once your vehicle is unloaded, you must move your car to the designated parking location. Tear-down should begin no earlier than 8:00 out of respect for festival attendees. All booths must be torn down by 9:00 pm.
The Wooster Arts & Music Fest Panel reserves the right to refuse any application and to remove from the festival any work that has been misrepresented in the application process without refund of booth fees.
All vendors must be present on site during the designated festival times. Booth sitters are available throughout the day.
The Wooster Arts & Music Fest Committee designates the placement of all vendors. Space location cannot be guaranteed.
Vendors must provide their own tents, tables, chairs and/or booth display units.
Electrical service is not available.
Artists agree to allow Wooster Arts & Music Fest to use submitted images of work in the promotion and advertising of the event.
Vendors are responsible for the collection and payment of Ohio sales tax.
Acceptance to Wooster Arts & Music Fest cannot be reassigned to another vendor.
All artwork must be original and created by, or under the direction of, the artists and must consist of predominately handmade parts.
Artwork exhibited must be consistent with images reviewed and accepted.
Quality commercial reproduction of original work may be sold. Reproductions must be signed editions and labeled 'reproduction.'
Booths may not contain work of non-juried artists.
Artwork created from commercial molds, mass- produced kits, embellished objects or other commercial methods or artwork produced in studios involved in volume production will not be permitted.
---
Artist/Vendor Application
Artist/vendor applications open February 1 and the deadline is August 1, 2020. We hope to see you at this year's festival!