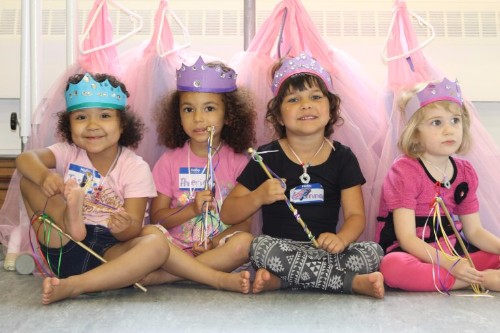 The faculty at Wayne Center for the Arts can organize private parties or classes for scouting activities, birthday parties, showers or other occasions. These events can be organized around dance, theatre, clay or visual arts activities for participants of all ages.  Sophisticated or simple events allow you to visit with your guests and enjoying being a host.
Our facility is also available for rent. Our building, conveniently located in downtown Wooster, has classrooms, dance studios, a conference room and an auditorium available for rent when otherwise not in use.
Our 1902 building provides a charming atmosphere for your event, meeting or party.
For more information, call (330) 264-2787, x201 or email frontdesk@wayneartscenter.org
At Wayne Center for the Arts we believe the arts are a fantastic way to celebrate childhood.  Our team of artists are ready to make your child's party one to treasure.  Schedule an appointment today to come in and chat with our team and create the party of your dreams and with your design.  We can work with you to develop just what you want for that special day!
"The Wayne Center for the Arts was the perfect place for our son's third birthday party. All of the activities were fun, age-appropriate and so creative — cookie-painting was definitely a crowd favorite! The kids got to celebrate and be creative in a fun and unique environment where everything was geared toward them. And one of the best parts was that the folks at the Center for the Arts took care of practically all of the details — I just had to show up with birthday boy! The party was both affordable and everything I hoped it would be. We couldn't have been more pleased!" ~Jennifer
Parties are scheduled for 90 minutes which allows time for the art activity, cake and presents.  Your child will have a unique experience.  All rooms reserved for the birthday party are available 30 minutes prior for set-up and 30 minutes after the party for clean-up.  All art supplies will be included.  Party instructors will remain for the entire length of the party.  Wayne Center for the Arts makes every effort to provide a safe and enjoyable party for our guests.  We ask that parents assist us by helping to monitor the children's behavior during the party.  We also ask that children be accompanied by an adult in the gallery and gift shop areas.  For more information about scheduling a children's party please contact Lynn at 330-264-2787 x204.
Painting Cookies

Crafting

Painting Cookies

Reading Nook

Eric Carle Theme
Ballerina Party
Dance with a beautiful princess, create a magic wand and tiara and feel the spirit of the kingdom with this memory making birthday gala!
Sculptasaurus Party
Just one of the choices from our pottery department where party goers might create on the potters wheel, hand build, sculpt and glaze to create a birthday memory!
Painted Canvas Party
Best part of this party are the smiles when the painters see their creations! Many ideas to choose from for a variety of ages!
Medieval Tournament Party
Party goers will divide into teams and compete in such medieval fare as jousting, dragon slaying and more as they celebrate in the manner of the knights of the round table.
Preschool Themed
Choose your favorite author, artist, or topic.  We have supplies for Eric Carle and Dr. Seuss themes as well!
PARTY FEES
$185 for up to 10 children
$15 for each additional child
We request that parties be scheduled at least two weeks in advance.