November 27 & 28, 2020
Join us for the 2020 WCA Holiday Artisan Market! We're thrilled to "deck the halls" of WCA with artist booths - just in time for your holiday shopping! This two-day event features live music, food trucks, and handmade work by dozens of local artisans.
Interested in selling your art or craft at this two-day market? Read the guidelines and apply below, or contact nichole@wayneartscenter.org.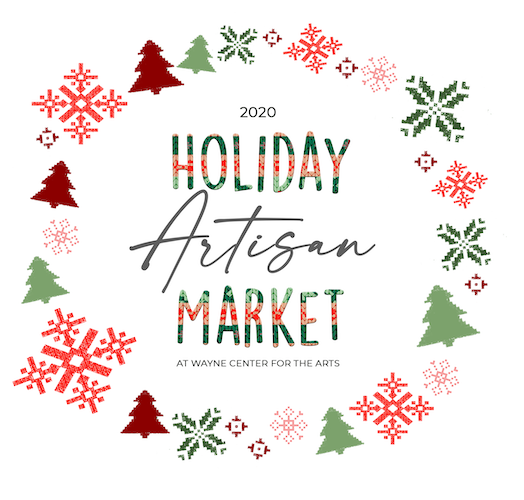 2020 Market Dates & Times
Friday, November 27, 2020: 4:30-8:30 pm
Saturday, November 28, 2020: 10:00 am-5:00 pm
---
Artist/Vendor Guidelines (Please read before applying!)
Check-in and set up begins at 12:00 noon on Friday, November 27, 2020. Space locations will be distributed at that time. Once your vehicle is unloaded, you must move your car to the designated parking location. All exhibit areas must be set up by 4:00 pm. 
Access to the exhibit area for tear-down will be given at 5:00 pm on Saturday, November 28, 2020. Booths must be torn down by 6:30 pm. 
The Holiday Artisan Market Committee reserves the right to refuse any application and to remove from the market any work that has been misrepresented in the application process without refund of booth fees. 
The Holiday Artisan Market Committee designates the placement of all vendors. If you prefer a specific space, please make your requests as soon as possible to lynn@wayneartscenter.org. Space locations cannot be guaranteed.
Exhibitors must provide their own booth display units and tables and chairs if not reserved in advance. 
Artists agree to allow Wayne Center for the Arts and the Holiday Artisan Market to use submitted images of work in the promotion and advertising of the event. 
Exhibitors are responsible for the collection and payment of Ohio sales tax. 
Acceptance to the Holiday Artisan Market cannot be reassigned to another vendor. 
Exhibitors are responsible for keeping their assigned areas free of garbage, and in otherwise good condition.
Promotional material is prohibited from being distributed outside assigned booth space unless previous authorization is given. 
All items must be displayed within your allotted display area. Single and double booth spaces, as well as table spaces, are available. 
Shared spaces are not permitted unless submitted together on the application and accepted by the jury. 
A maximum of one (1) table space may be purchased without a booth registration.
LIMITED ELECTRICITY IS AVAILABLE. Artists are responsible for providing their own extension cords, drop cords, light bulbs, fixtures, etc.