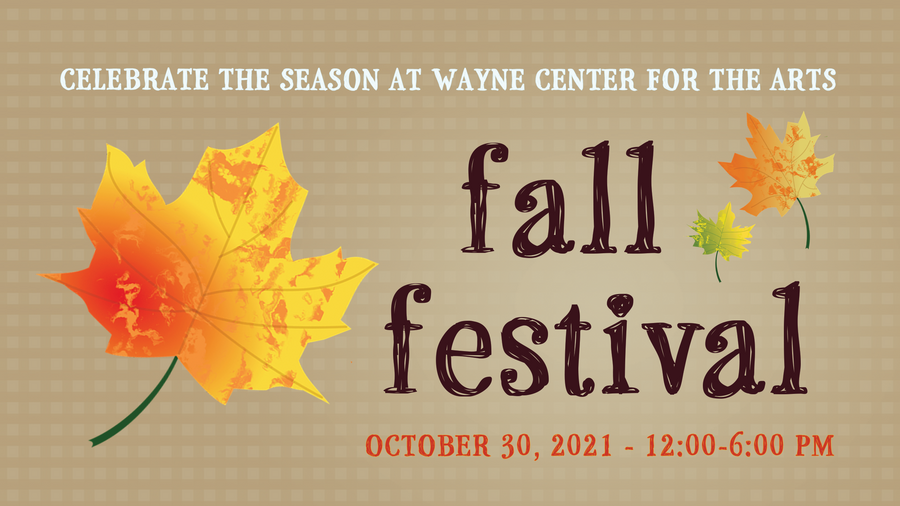 WCA Fall Festival
Join us for a Fall Festival on the grounds of WCA! We're celebrating the season with art demonstrations, an artisan market, a new exhibit, live music, food, and fun for all ages. Enjoy the music of "The Wayfarers," "Barefoot McCoy," and more to be announced as you stroll the beautiful campus of Wayne Center for the Arts! 
Interested in selling your art or craft at this one-day market? Read the guidelines and apply below (after July 5, 2021), or contact lynn@wayneartscenter.org.
Dates
October 30, 2021 - 12:00-6:00 PM
Applications open July 5, 2021.
Application deadline is September 15.
Artists will be notified of acceptance no later than October 1.
Booth fee will be refunded if we have to cancel for any reason
Artist/Vendor Guidelines (Please read before applying!)
Applications may be submitted on our website, in person, or electronically via email to: lynn@wayneartscenter.org with WCA Fall Festival and applicant's name in the subject line. (Booth fees and any remaining materials must be received 7 days after electronic submission to be eligible for adjudication). Inquiries can be made to Lynn Davis at lynn@wayneartscenter.org or by calling 330-264-2787 x204.
With your application, please submit three images of work labeled with Artist name, medium, and dimensions. We are looking for clean, well-lit representations of the work you intend to exhibit at the Festival. These images may be uploaded at the end of the website application.
All artist applications must be submitted by September 15, 2021. A confirmation of receipt of submission will be sent to applicants via email. The WCA Fall Festival Committee will conduct a blind jury process. There is no jury fee. After reviewing submitted images, the panel will invite applicants with the highest scores to participate. Notification of acceptance will be emailed as soon as possible after receiving application, no later than October 1, 2021. Space is limited, so please apply early. Booth fees of those applicants not accepted into the festival will be returned.
WCA abides by all state and federal guidelines regarding the novel coronavirus. In the event that such guidelines prohibit large gatherings in fall 2021, we will adapt or cancel the Festival as necessary. In the case of cancellation, artists' fees will be refunded.
---
Booth registration includes 1 table and 2 chairs.

Check-in and set up begins at 10:00 am on Saturday, October 30, 2021. Space locations will be distributed at that time. Once your vehicle is unloaded, you must move your car to the designated parking location. All exhibit areas must be set up by 11:30 am. 

Access to the exhibit area for tear-down will be given at 6:00 pm on Saturday. Booths must be torn down by 7:30 pm. 

The WCA Fall Festival Committee reserves the right to refuse any application and to remove from the market any work that has been misrepresented in the application process without refund of booth fees. 

The WCA Fall Festival Committee designates the placement of all vendors. If you have specific requests regarding your location, you must submit them at the time of application. Space locations cannot be guaranteed. 

Exhibitors must provide their own booth display units and tables and chairs if not reserved in advance. 

Artists agree to allow Wayne Center for the Arts and the WCA Fall Festival to use submitted images of work in the promotion and advertising of the event. 

Exhibitors are responsible for the collection and payment of Ohio sales tax. 

Acceptance to the WCA Fall Festival cannot be reassigned to another vendor. 

Exhibitors are responsible for keeping their assigned areas free of garbage, and in otherwise good condition.

Promotional material is prohibited from being distributed outside assigned booth space unless previous authorization is given. 

All items must be displayed within your allotted display area. Single and double booth spaces are available. 

Shared spaces are not permitted unless submitted together on the application and accepted by the jury. 

Electricity will not be available. 

Booth fees will be refunded in the event of cancellation