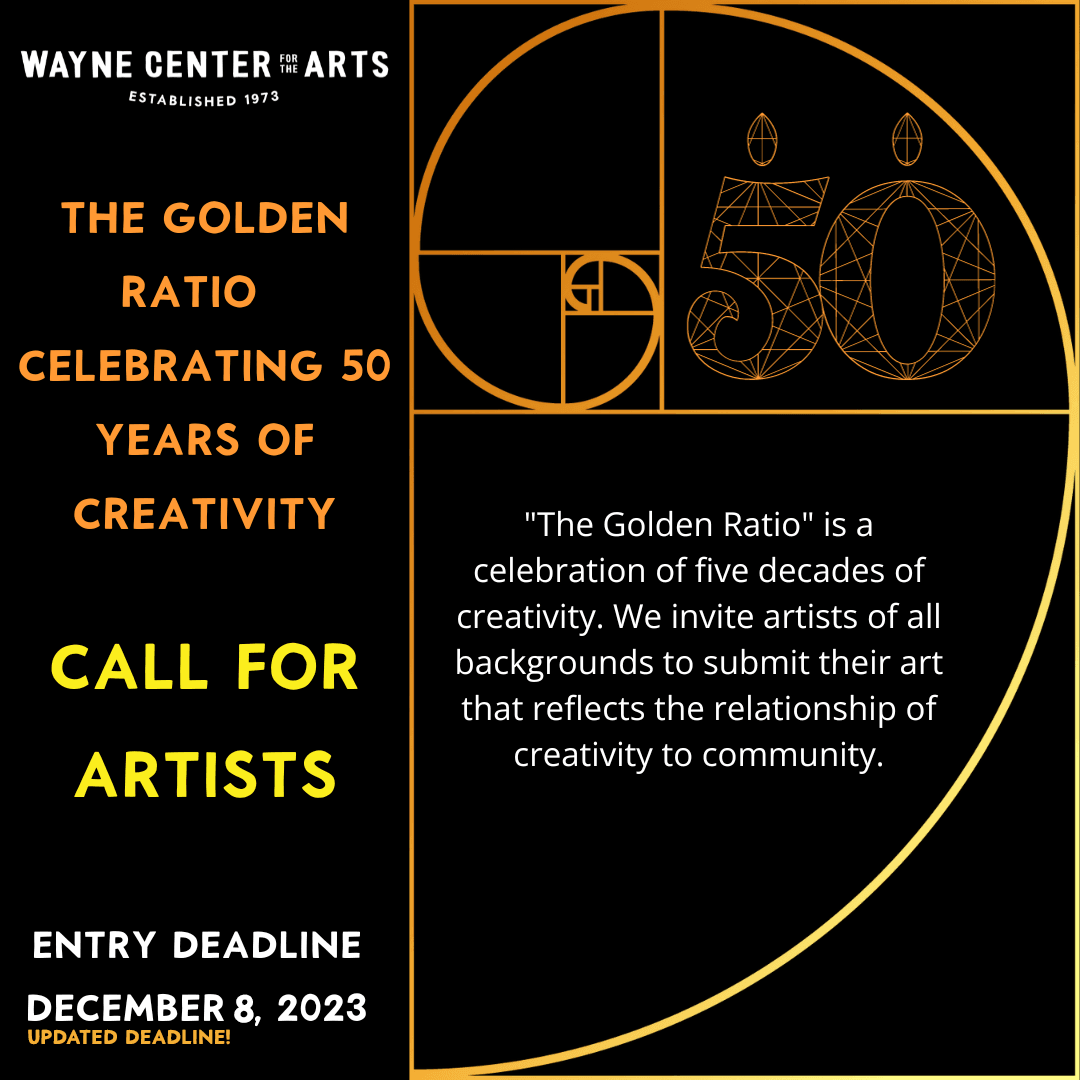 ---
CALL FOR ART!!!!!  Hello, incredible artists! We're thrilled to have you be a part of "The Golden Ratio: Celebrating 50 Years of Creativity" exhibition at the Wayne Center for the Arts. Your talent and creativity are what make this event truly special.
About the Exhibit:
"The Golden Ratio" is a celebration of five decades of creativity! We invite artists of all backgrounds to submit their art that reflects the relationship of creativity to community.  Accepting 2D & 3D up to 48 inches. Whether you're an established pro or a rising star, this is your chance to be part of something extraordinary and join us in celebrating 50 years of arts in Wayne County.
Dates & Times:
Entry deadline: December 8, 2023 (UPDATED DEADLINE)
Artist notification: December 14,2023
Artwork drop off: December 18, 2023 (sorry, no early drop off will be available)
Exhibit: January 18-February 3, 2024
Opening reception: January 18 5-7pm
Artwork pickup: February 5,6,7th
Rules & Criteria:
Here's everything you need to know to make your participation seamless and enjoyable:
1. Original Artwork: All artwork submitted must be your own original creation. We're excited to see your unique interpretations!
2. Fresh Perspectives: To keep things fresh and exciting, we ask that you submit pieces that haven't been displayed at WCA before.
3. Complete Submission Form: Please ensure your submission form is fully completed and accurate. This information will be used to create labels for the exhibition. So please, double-check your submission carefully to ensure accuracy.
4. Display Readiness: Your artwork should be ready for display, including appropriate hanging devices. If you're unsure about hanging techniques, feel free to reach out to Darcy at darcy@wayneartscenter.org for guidance.  Accepting 2D & 3D up to 48."
5. Drop-off and Pick-up Dates: Mark your calendars! Artwork drop-off is scheduled for December 18th, 2023, and pick-up will be on February 12th, 2024. Regrettably, we can't accommodate early or late drop-offs/pick-ups.
6. Acceptance Notification: Submission is the first step on this exciting journey. You'll be notified if your artwork has been selected for the exhibition.
7. Gallery Commission: Wayne Center for the Arts operates with a 30% gallery commission fee, which helps us continue to foster the artistic spirit in our community. Please price your artwork accordingly.
How to Participate:
Artists, ready to explore "The Golden Ratio"? Submit your creation by December 8, 2023 (UPDATED DEADLINE)
Click on the button below to enter your artwork, the submission fee is $10.00 per piece of artwork. Join us on this journey of self-expression and imagination. See you at the Wayne Center for the Arts!
If you have any questions or need assistance, don't hesitate to reach out to exhibits@wayneartscenter.org