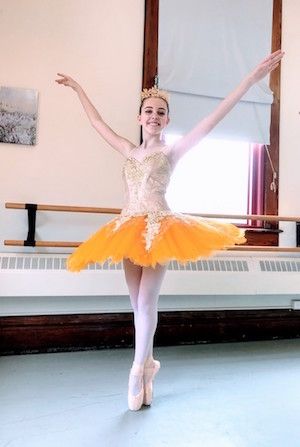 FOR IMMEDIATE RELEASE
April 2, 2019
WOOSTER, OH – Wayne Center Ballet announces an inspirational dance performance depicting the challenges we face in life.  The Journey of Sunshine, choreographed by Artistic Director Brian Murphy and premiering on April 13, 2019, follows themes of opportunity, relationships, overcoming fear, and following the journey of life. The select auditioned student company of the Wayne Center Ballet will dance this nine-part new ballet, taking the audience from darkness through a journey of color, emotion, and struggle, finally emerging into light.
Wayne Center Ballet is also proud to premiere the Walnut Street Ballet project To the Hands at the 7:00 performance of A Journey of Sunshine. Walnut Street Ballet is a newly formed initiative of Wayne Center for the Arts dance faculty and friends. In addition to Murphy, Walnut Street Ballet includes Ella Davidson (WCA), Mary-Elizabeth Fenn (Neos Dance Theater), Omar Humphrey (Verb Ballets), Regina Pietraroia (Ohio Dance Theatre/Dance Arts by Regina).  Also performing will be faculty and friends; Rebecca Ramirez (Cleveland Ballet), Carson Sandiford (Cleveland Ballet/WCA), and Lauren Stenroos (Cleveland Ballet/WCA). This performance will feature new choreography by Murphy with the University of Akron Chamber Choir performing Caroline Shaw's 2016 work, "To the Hands."
"To the Hands" was commissioned as a response to the 17th-century work Ad manus by Dieterich Buxtehude. The text of the piece features words from Buxtehude, Emma Lazuras' Sonnet The New Colussus (engraved at the base of the Statue of Liberty), and the Song of Solomon. In one movement, the choir speaks numerical figures over sparse string accompaniment; these numbers are global figures of internally displaced persons. The work invites us to engage with those around the world who seek refuge and suffer isolation. We asked to reflect, "What are these wounds in the midst of our hands?"
At 6:00 pm, Murphy will give a pre-performance talk discussing the dancers and the artistic process. Both the talk and performances will take place at Wooster High School in the Performing Arts Center. All are invited to attend the pre-performance talk; tickets for the 7:00 performance are $6/students and $12/adults.
Wayne Center Ballet will also perform "The Journey of Sunshine" at 2:00 pm the same day; at this performance, the Pre-Professional and Community Schools of Dance at the Wayne Center for the Arts will also perform their spring class showcases. Tickets for this performance, which does not include To the Hands, are $6/students and $8/adults.
 For more information, or for ticket purchases, visit www.wayneartscenter.org/visit, or call 330-264-2787.