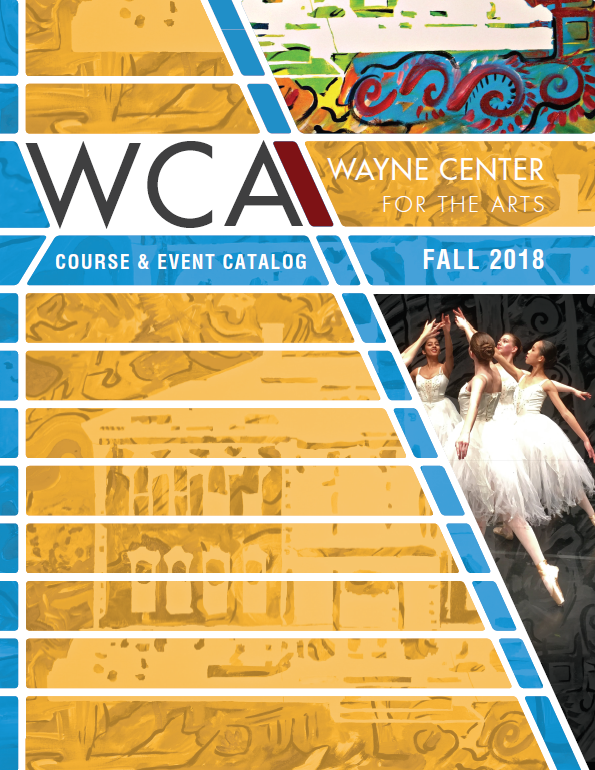 We can't believe how fast the summer has flown! Our courses are planned, events are scheduled, and we are ready to unveil the new Fall 2018 Wayne Center for the Arts Catalog! Here's a "sneak peak" of some of the exciting offerings coming your way:
Expanded Visual Arts Classes for Ages 3 and up! Our little STEAMers have more classes on their way! Fall and winter courses for ages 3-5 start on September 18, taught by the fabulous Sharon Tomasetti. New Visual Arts teacher Alison Eby will host classes for tweens in Fashion Design and Comic Book Drawing. And, for the over 14 crowd, we are delighted to welcome back instructor Rob Van Natta for Adult Watercolor. We're so excited to get creating!
More Specialty Classes. Quilting, hand lettering, art journaling, jewelry-making, creative writing - there's something for everyone! Join us for one day, 4 weeks, or 6 weeks; there's a class to fit every schedule!
Welcome Back, Magical Theatre Company! Did your kids love the Great Big Acting Camp? Magical Theatre returns for the FUNdamentals of Acting, starting September 15th!
New Gallery Shows. We're excited to welcome back the North Coast and Buckeye Woodturners, along with an especially "wild" show by photographer Stephen Shapiro!
Ballet Guest Artists Rod Howell and Kristin Hasty, plus a special visit by the Sugar Plum Fairy! Our dance program keeps growing! Check out the dance workshops for extra-special events in our dance family.
But we haven't forgotten tradition. Our Fall Catalog also includes information on our much-anticipated biennial production of The Nutcracker, as well as holiday traditions like the Gingerbread House Workshop, Window Wonderland Open House, and Holiday Gift Shop. We can almost hear the sleigh bells!
Enjoyed this sneak peak? Check out our Fall Catalog for these and other exciting things to come!