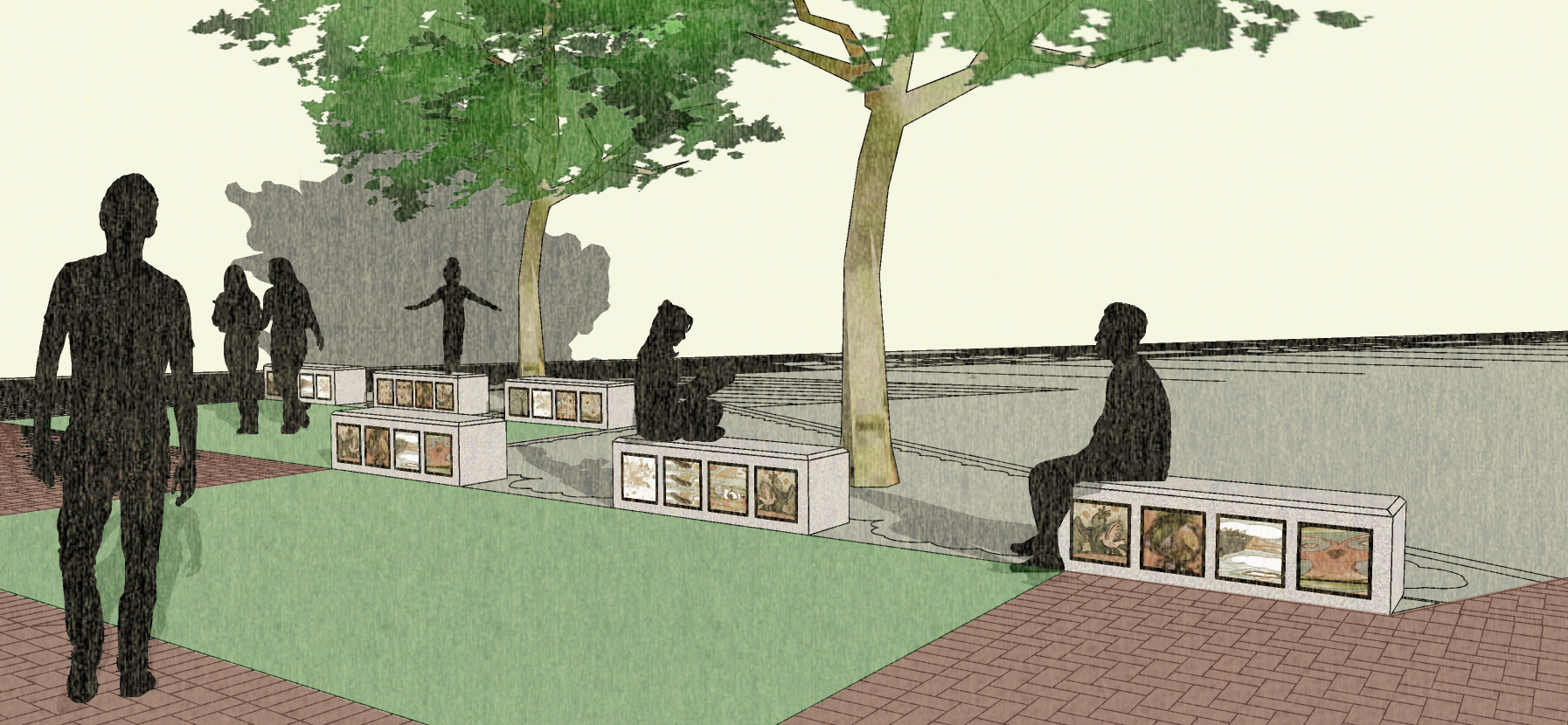 Main Street Wooster, in collaboration with Wayne Center for the Arts, announces applications for the 2020 Streetscape Art Tile Project, creating local art to upgrade the SE and SW quadrants of the Wooster downtown square. We're thrilled to partner on this opportunity for local artists! No application fee is necessary; multiple submissions are encouraged. Art Tiles will be installed on two seat walls that will be permanently installed in downtown Wooster. Main Street Wooster and Wayne Center for the Arts will collaborate on an exhibit of the winning submissions that will be scheduled after restrictions on public gatherings have been lifted.
Theme: Life in Wooster
Broad concept – a piece qualifies as long as people won't scratch their heads and say "What on earth does this have to do with Wooster?"
Examples: Native plants, native animals, local sports teams, industry, civic groups, arts, culture, landmarks.
Mood: Uplifting
Examples: beautiful imagery, positive family scene, cooperative effort
Color Palette: Dominant earth tones, no neon or fluorescent colors. Each piece or series of pieces will be printed with a ½" sepia border to visually separate it from adjacent art.
Format:
Option 1: Digital art 300 dpi at actual size (12" x 12") saved as eps/jpg/tif OR
Option 2: Two-dimensional and capable of being transported off-site to be scanned and sized to 12" x 12"
Deadline for submissions: July 1, 2020 (NEW DEADLINE!) at 5:00 p.m. Multiple submissions encouraged.
Winning Submissions: Winners will be notified of their selection by July 22, 2020.
NOTE - approximately half of the winning submissions will be installed in the southeast quadrant (completion in 2020) while the rest will be installed in the southwest quadrant (completion in 2021).
Winning submissions will be displayed at the Wayne Center for the Arts during an exhibit that will be scheduled after restrictions on public gatherings have been lifted.
Sponsorship Opportunities:
"Americans are highly engaged in the arts and believe more strongly than ever that the arts promote personal well-being …" You can demonstrate your commitment to the well-being of our community by sponsoring the public art project in this Streetscape.
The City of Wooster and Artfind Tile are helping us facilitate this public art project, but we need your sponsorship to help to fund the creation and installation of the tiles. Contact Main Street Wooster or the Wayne Center for the Arts to sponsor this Streetscape art. Sponsors will be recognized with prominently displayed tiles installed on the end caps of the seat walls. All sponsorship tiles will be printed in sepia tones for consistent, pleasing visual.
Name & logo sponsorships:
Whole tile: (12" x 12" space): $3,000
Half tile: (12" x 6" space): $1,800
Quarter tile: (6" x 6" space): $1,000
Name listing only sponsorships:
1/16 tile: (6" x 1.5" space): $250
This form stopped accepting submissions on July 1, 2020 5:00 pm EDT.
Prefer to submit your physical work in person rather than online? Download and complete this application and bring it, along with your works of art, to WCA on Wednesday, July 1st between 11:00 am and 6:00 pm.