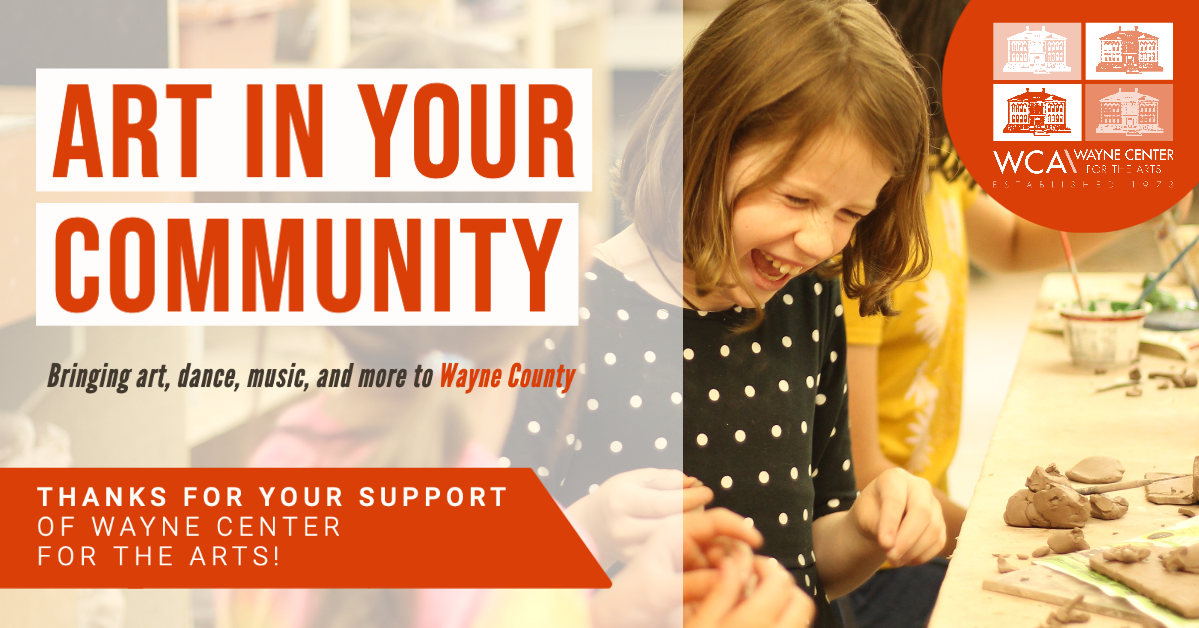 ---
Friends and Family of Wayne Center for the Arts,
We need the arts now more than ever! This year has been marked by COVID, conflict, economic challenges, and an emotional roller coaster of uncertainty. Wayne Center for the Arts has experienced considerable hardship since the start of the COVID restrictions in March, facing closures, cancellations, dark hallways, and major programming changes. However, we're committed to an attitude of resilience, adaptation, and innovation. We have taken significant internal action to ensure the long-term sustainability and viability of WCA by working to decrease expenses while developing creative take home and virtual programming. Our efforts over the last few months have sought to keep the arts in the lives of our community while generating unique revenue to ensure the future of our historic organization.
Through all this, our community has continued to amaze and delight us with your support and dedication!  Your contributions ensure continued programming and will also fund our future, helping WCA enhance offerings and reach an ever-growing network of students, artists, audience members, and community partners.  Our Annual Fund goal for 2020 is $200,000 and any level of contribution helps and is greatly appreciated!  Your support will help fund the following initiatives:
Scholarship Program:  Our goal is to provide programming to all interested members of our community, regardless of ability to pay.
Operations Expenses:  Our Historic Walnut Street School building is beautiful and embodies the spirit of WCA...yet comes with extra maintenance expenses.
Community Outreach Programming:  Your contributions help fund programming by offsetting the cost of materials, travel, and staff time; making programming feasible for area schools and non-profit organizations.
STEAM Factory: Our newest initiatives create a culture of STEAM and entrepreneurship by offering classes, workshops, camps, and open studio opportunities.
In order to sustain a true community arts center, we need YOU!  Feel free to contact James Fox to arrange a meeting to discuss programming, partnership, volunteerism, or teaching and outreach opportunities.  We would love to hear from you!  
Thank you for your continued support. We look forward to being YOUR community art center for many years to come.

Sincerely,
James Fox, Executive Director
Emily Mariola, Board President
To donate now online, select from the options below using our secure payment system. Check out how your donation may be used; every dollar counts!
If you would like to mail your donation, please send us a note with your check to:
Wayne Center for the Arts
237 South Walnut Street
Wooster, Ohio 44691
---