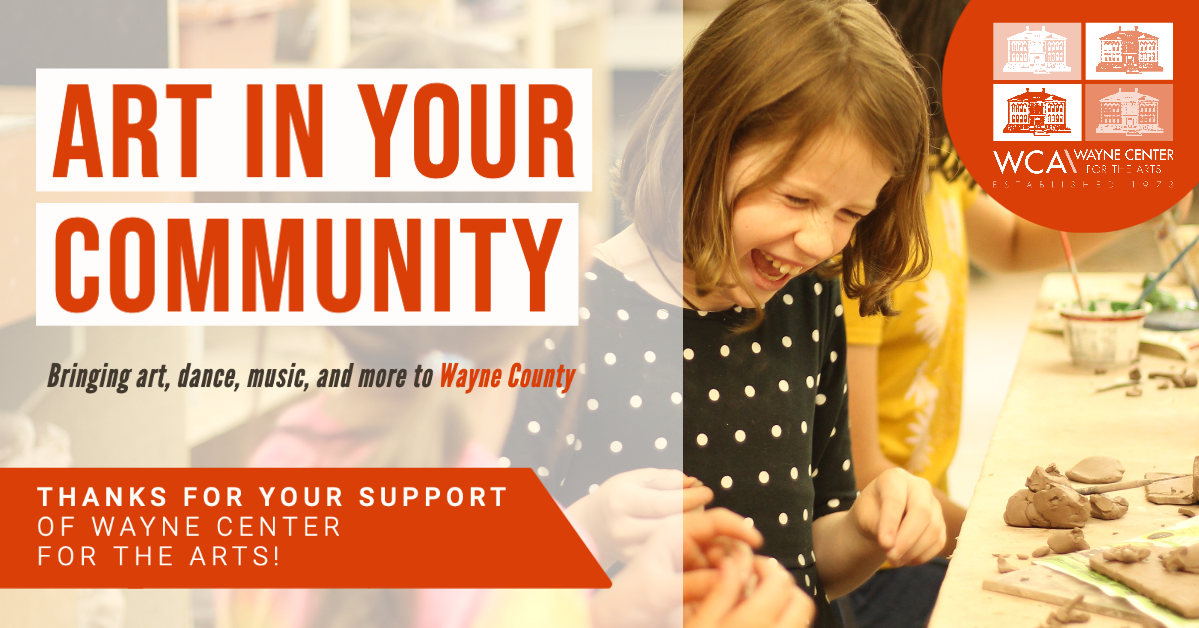 ---
Friends and Family of Wayne Center for the Arts,
This annual appeal comes to you at a time of great excitement, opportunity, and renewal at the Wayne Center for the Arts (WCA).  As we begin developing exciting new arts and STEAM (Science, Technology, Engineering, Art & Math) programming, we also reflect on our agency's mission, vision, and grassroots history as a community arts center.  We can learn a great deal from our humble beginnings, and it is our hope that all members of the Wayne County community feel like a member of the WCA family.
Wayne Center for the Arts is YOUR community arts center!  It is our mission to inspire, enrich, and strengthen our entire community through the arts.  While our traditional arts programming continues to meet this mission, we are excited to push the boundaries in order to reach all members of our community.  We will be adding STEAM programming through our new CreateSpace initiative that will allow youth to explore the arts through some digital and electronic environments.  We also will be increasing access to the arts by providing increased outreach opportunities in under-served areas of Wayne County. 
For a county of our size to sustain a longstanding Arts Center is truly a testament to the creativity, dedication, and philanthropic spirit of our community.  Your contributions will not only ensure continued programming but also will help WCA enhance programming and reach more members of our community. Our Annual Fund goal for this year is $200,000 and any level of contribution helps and is greatly appreciated!  Your contribution will help fund the following initiatives:
Scholarship Program:  Our goal is to provide programming to all interested members of our community, regardless of ability to pay.  Our scholarship fund ensures that students of interest and promise will always have a safe place to learn, explore, and be inspired.  
Operations Expenses:  Our historic Walnut Street School building is beautiful and embodies the spirit of WCA...yet comes with a little extra maintenance expense.  Our goal is to maintain and enhance the building so that it can remain the center of the Wayne County Arts District for many years to come!
Community Outreach Programming:  We are seeking partnerships with numerous area schools and social service organizations to provide targeted programming in a variety of environments.  Your contributions help fund our arts integration programs by offsetting the cost of materials, travel, and staff time making programming feasible for area schools and non-profit organizations.  From improv theater to mobile CreateSpace programming, sometimes all it takes is one exposure experience to change a life forever!
In order to sustain a true community art center, we need YOU!  Feel free to contact James Fox at any time to arrange a meeting to discuss programming, partnership, volunteerism, or teaching and outreach opportunities.  We would love to hear from you! 
Thank you for your time and consideration and we look forward to being YOUR community arts center for many years to come.
Sincerely,
 
James Fox, Executive Director
Thomas Boreman, Board President
To donate now online, select from the options below using our secure payment system. Check out how your donation may be used; every dollar counts!
If you would like to mail your donation, please send us a note with your check to:
Wayne Center for the Arts
237 South Walnut Street
Wooster, Ohio 44691